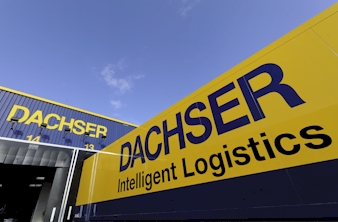 DACHSER Opens Branch in Luxembourg - The Grevenmacher branch is located between Trier (Germany) and Luxembourg City.

Hong Kong, 10 February 2011. DACHSER is reinforcing its position in the Benelux countries. With a new branch in Luxembourg, the internationally operating logistics provider is now present with its own facilities in 17 countries across Europe.

Operating under the name DACHSER S.a.r.l. Luxembourg, the new company based in Grevenmacher is directly connected to the Eurohub in Überherrn, Saarland/Germany. "This enables us to offer all European facilities regular connections with standardized shipment times, even if they don't run direct services to Luxembourg," says Michael Schilling, DACHSER managing director for European Network Management & Logistics Systems. European customers thus benefit from optimal access to the Luxembourg market.

The Grevenmacher branch is located between Trier (Germany) and Luxembourg City. The site encompasses a 2,600-square-metre transshipment hall with 18 bays, and 800 square metres of offices. Initially, DACHSER will employ a staff of 25 in Grevenmacher. Torsten Baasner, responsible for forwarding management at the Überherrn facility since 2006, will be manager of the new branch.

DACHSER is present in the Benelux countries with another nine branches, five in the Netherlands and four in Belgium. Via DACHSER's Air & Sea Logistics business segment, five of these locations have connections to intercontinental markets.

Company Background

DACHSER is an international logistics services provider headquartered in Kempten/Germany, where the company was founded in 1930 by Thomas DACHSER. The company's mission is to improve the logistics processes of its customers. In 2009, DACHSER generated total revenue of EUR 3.2 billion. 17,500 staff working in 306 profit centres worldwide handled 41.8 million consignments weighing a total of 29.4 million tons. DACHSER Far East Ltd. is a 100% owned subsidiary of the DACHSER Group. The company employs about 600 people offering services from freight forwarding by air & sea, trucking, warehousing to contract logistics in 15 locations in Greater China with its regional head office in Hong Kong.

For more information contact:

Diana Laudani
DACHSER Far East Ltd.
Tel: +852 2751 5766
Fax: +852 3764 0356
Email: diana.laudani@dachser.com.hk

Russell Green
RTG Communications
Tel: +852 2858 7176
Fax: +852 2893 3486
Email: rtgcomm@biznetvigator.com

RTG Communications
Room 1603, Beverly House,
93-107 Lockhart Road,
Wan Chai,
Hong Kong
Tel: +852 2858 7176
Fax:+852 2893 3486
E-mail: rtgcomm@biznetvigator.com
Website: www.rtgcommunications.com

Submitted by: LogisticsWorld
news@logisticsworld.com, 2/20/2011 7:47:40 AM
LogisticsWorld

DIRECTORY
Transportation
Logistics
Freight
Employment
Trucking
Software
Consulting
Warehousing
Supply Chain
Import / Export
Technology
Manufacturing
Services
Travel / Tourism
Trade / Finance
Business / Mgmt
Educational
Govt / Military
International
TOOLS

Airlines
Airports / Airport Codes
Seaports / Seaport Codes
U.S. Customs Brokers
Transport / Logistics Acronyms
NAICS and SIC Codes
Harmonized Tariff Schedule
Country Profiles
World Time Zones
World Time Clock
ISO 3166 Country Codes
ISO 4217 Currency Codes
FIPS Country Codes
U.S. Government Links
Software Links
Lean, Six Sigma Links
Travel Destinations
Hot Links
Books and Publications
Weights and Measures
more tools...
GEOSEARCH
Asia | Africa | Europe | Oceania
North America | South America