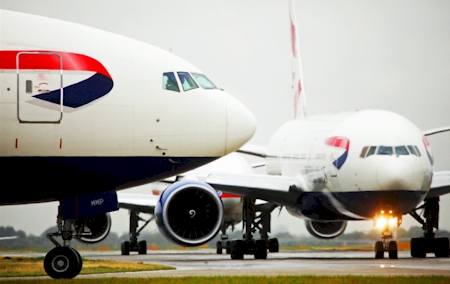 "The additional flights will prove highly beneficial to IAG Cargo's South American business and our customers..."

June 19, 2013 -- IAG Cargo today announces it will be able to offer customers additional freight capacity between London and Rio de Janeiro, due to an increase in the frequency of British Airways passenger flights from April. From October 28, 2013, the route will be serviced daily by a Boeing 777-300ER, replacing the 777-200 currently servicing the route. Customers will benefit from increased access to IAG Cargo's cargo network, which supports more than 350 destinations worldwide.

The new flight brings the weekly total on the Rio de Janeiro route to seven frequencies. This will provide IAG Cargo customers with a greater flexibility over when they send consignments and will allow them to ship an increased weight of cargo, with an additional available capacity of 42 tonnes per week.

Rio de Janeiro and Latin America overall, are important growth markets for IAG Cargo. In 2012, the London-Rio de Janeiro route generated 2759 tonnes of cargo, including general cargo, Prioritise, IAG Cargo's premium product solution, with shipments receiving the fastest publicised cut off and delivery times of any air carrier and Constant Climate, precision temperature controlled air cargo containers that can cater for temperature requirements as low as minus 20°C and as high as 25°C.



Submitted by: LogisticsWorld
news@logisticsworld.com, 6/22/2013 1:56:41 PM
LogisticsWorld

DIRECTORY
Transportation
Logistics
Freight
Employment
Trucking
Software
Consulting
Warehousing
Supply Chain
Import / Export
Technology
Manufacturing
Services
Travel / Tourism
Trade / Finance
Business / Mgmt
Educational
Govt / Military
International
TOOLS

Airlines
Airports / Airport Codes
Seaports / Seaport Codes
U.S. Customs Brokers
Transport / Logistics Acronyms
NAICS and SIC Codes
Harmonized Tariff Schedule
Country Profiles
World Time Zones
World Time Clock
ISO 3166 Country Codes
ISO 4217 Currency Codes
FIPS Country Codes
U.S. Government Links
Software Links
Lean, Six Sigma Links
Travel Destinations
Hot Links
Books and Publications
Weights and Measures
more tools...
GEOSEARCH
Asia | Africa | Europe | Oceania
North America | South America